Now Is A Geat Time To Visit
Wine Tasting
Boating/Fishing Outdoors/Hiking
California's Cleanest Air
Spectacular Scenic Beauty
Lake County
California's Hot New Wine Destination
Lake County - home to Mount Konocti,
an ancient volcano that recently opened to offer one of the newest day hikes in the state.
Lake County, California is ranked as the #1 county for cleanest air in the nation!
Lake County - home to Clear Lake,
the largest natural freshwater lake in California
and one of the oldest lakes on the continent.

The Carriage House
Vacation Rental
Awarded
Lake County's highest Rating
for Accommodations
Part of the historic, 1906 Keeling estate, The Carriage House is a private retreat with ambience of a fine B&B. Ideally located one block from Clear Lake, California's largest natural lake, our vacation rental is just a two-hour drive or less from the San Francisco Bay Area, Sacramento, the Pacific Ocean, the Napa Valley and the Redwoods of Northern California.

We have thought of everything to make your stay as pleasant as possible. The Carriage House is a fully furnished, upscale, 2-bedroom, 2-bath cottage. Our 1200 square-foot house will comfortably accommodate six and is perfect for two couples traveling together, business travelers or as a romantic getaway for two.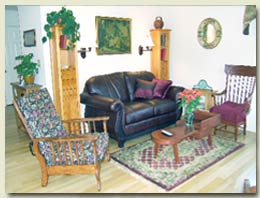 You will love the convenience of being within walking distance of historic downtown Lakeport, the lake, restaurants, coffee houses and the grounds of Library Park. Located on quiet Clearlake Avenue, The Carriage House is only a few hundred feet from the lake & boat launch.


Explore our website to learn more about The Carriage House and the vast recreational and entertainment possibilities of Lake County that make our region Northern California's best-kept secret. The Carriage House is a favorite for bass fishermen and their families, those coming for wine tasting, families attending weddings in Lake County, and for those simply desiring a leisurely vacation.

When choosing accommodations, from bed and breakfasts to hotels, you will find that a stay at The Carriage House will fulfill your lodging needs!